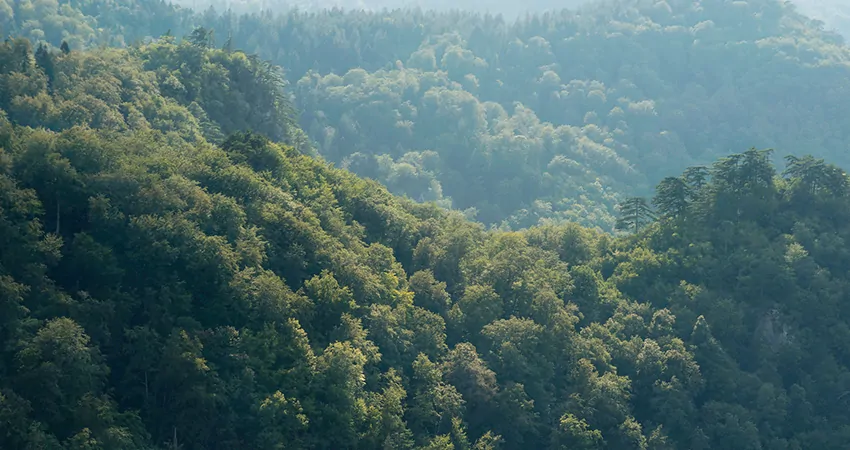 Lakeside homeowners cherish their properties because of easy access to natural areas such as hiking trails. Residents of Lake Keowee have an abundance of trails to choose from. Ahead, we share a few parks with stunning trails that residents can quickly access for their next adventure.
Table Rock State Park
Table Rock State Park is home to several beautiful daytime hiking trails that are suitable for hikers of varying skill levels. Carrick Creek Trail is less than two miles and takes you past the stunning Green Creek Waterfall. The Ridge Trail and Mill Creek Pass are also simple yet rewarding day hikes. Don't leave the park without hiking to the top of Table Rock (approx. 3.6 miles) and enjoying the unobstructed view of the Blue Ridge Mountains sprawling in the distance.
Caesars Head State Park
With 12 different trails available, Caesars Head State Park is a hiking wonderland near Lake Keowee. Trails range in length from the 0.5-mile Coldspring Connector #7 to the 10-mile Pinnacle Pass #20. One of the true standout trails in Caesars Head State Park is Raven Cliff Falls trail, which travels across a suspension bridge that gives you a good look at the 420-foot tall Raven Cliff Falls.
Keowee-Toxaway State Park
The trails at Keowee-Toxaway State Park give you the opportunity to enjoy the great outdoors without having to leave the Lake Keowee region. The park is located on the northeast side of Lake Keowee. It is home to Natural Bridge Nature Trail and Raven Rock Trail, both of which are moderate-to-strenuous day hikes.
Build a lakefront home
Mountain and lakefront homes offer a peaceful escape from the hustle and bustle of life in the city and allow you to reconnect with nature. At Ridgeline Construction Group, we have designed and built a number of custom luxury homes around Lake Keowee. We strive to build homes that exceed our client's expectations and that can be enjoyed for generations. Whether you are in the early stages of planning your dream home or need a builder to execute finalized plans, we will transform your vision into a reality. To explore a partnership with Ridgeline Construction Group and to learn more about our services, contact us.