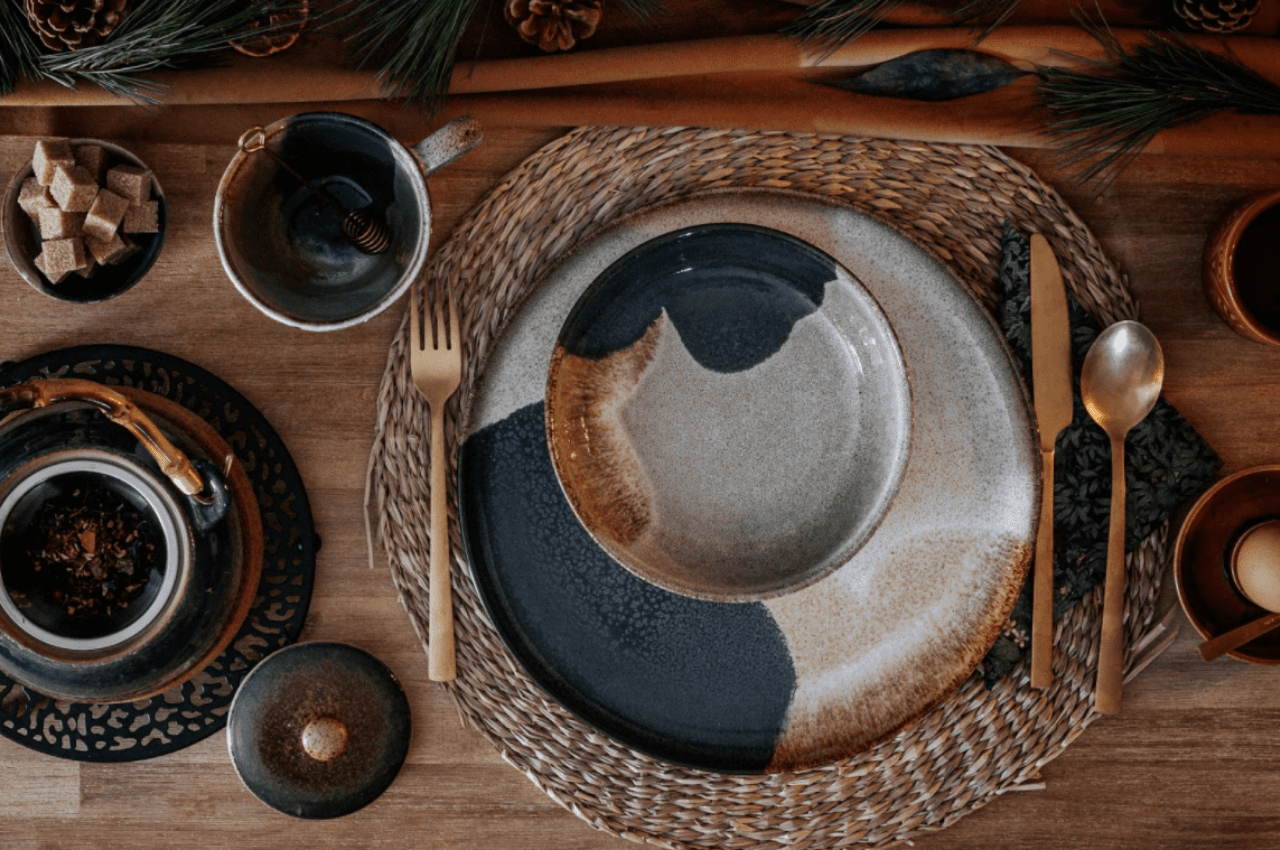 Setting the Perfect Table for the Holidays

As the holidays quickly approach, it is time to start planning your next big family dinner or neighborhood gathering. Start planning for custom home decor that makes a statement. From festive colors to timeless textures and reminiscent themes, there are so many ways to dress up your custom mountain home.
This holiday season, keep your guests around the table by making a statement with your table setting, centerpiece, and other decorative ideas.

Get to Know the Basics
Before you purchase your stand-out settings and centerpiece, consider the audience you are serving. Are you hosting a casual or formal event?
Depending on the occasion, you will want to match the design of your custom home decorations to the audience and their attire. Remember to think about the length of the gathering. How long will guests spend at your table?
Traditionally, a formal table design includes both red and white wine glasses, cutlery and plates for each course.
On the other hand, casual place-settings include a single wine and water glass and fewer utensils. Decide on your style before you start setting. Is it a casual and relaxed night? Or a fancy and ornate evening?

Stay on Theme
Once the audience is established, cater to a single theme throughout your custom home. The theme largely depends on the holiday, meal, occasion, size of the group and more.
If you are hosting a Christmas Party, maybe your theme includes red and green accents with white lights. Or if you are throwing together a fun and casual Thanksgiving football watch party, you may opt to dress your custom home in your favorite team's colors.
Remember, your custom home decor doesn't start and end at your table. Do your research and draw inspiration from a professional designer's table settings to learn how to make your decor look cohesive throughout your custom home.

Make it Personal
The holidays are a time of togetherness, warmth, and love. What unique details can you incorporate into your custom mountain home decor that will make guests feel comfortable but luxurious? Make your friends and family feel special with personalized touches throughout your custom home.
Consider including thoughtful name cards or placements for each guest. Prior to the event, order personalized wine glass charms for the adults so they can keep track of their drink, and also leave the dinner with a thoughtful party favor.
Or have all your guests share a kind message on a piece of paper so that next year, you can reminisce together.
If you're looking to enjoy the beautiful crisp mountain air, consider a blanket accent for your table. Try a plaid or vibrant color to add a strong piece to your table setting that also emulates a warm and welcoming feeling for your guests.

Let's Interact
When planning a party in your custom home, plan for some subtle ways for guests to interact with each other. When the conversation runs dry, have simple activities ready to go to keep everyone feeling welcome.
One such activity is especially appropriate for a Thanksgiving gathering. Ask guests "what are you thankful for?" or "what is your favorite thing about the person to your left?" Make cards for guests to write their answers down and have them share them outloud with the group.
Get creative to keep your guests entertained and talking around your holiday table.

Make a Statement with Your Centerpiece
When it comes to your dining table, you will want your centerpiece to match the grandeur of your custom mountain home. Design a centerpiece that follows your party's theme but also complements your overall home's style.
When it comes to your centerpiece, pay attention to its size, height and distance from guests to create the best dining experience for them. Your centerpiece should be proportional to the size of the table. In other words, avoid making it too wide or high. However, adding height to your centerpiece is always a good idea if your custom home has especially high ceilings. Keep your centerpiece from falling flat by using wildflowers or pillar candles.
Additionally, stay away from blank space. Too much space with no decor has the potential to look unfinished and cold. Finally make sure the centerpiece is attractive from all angles. Factor in the perspective of each guest around your table to ensure they each have a beautiful view and enough space in front of them to comfortably reach for their drink.
Set a table your guests won't want to leave this holiday season. By adding a little extra effort and personalization to your table settings, you'll create an experience your friends and family will never forget and a home they will love to visit. Create the perfect table in your dream custom home with the help of the custom home builder experts at Ridgeline Construction Group. Contact Us to Ridgeline Construction Group, in Greenville, SC, to start turning your vision into a reality.