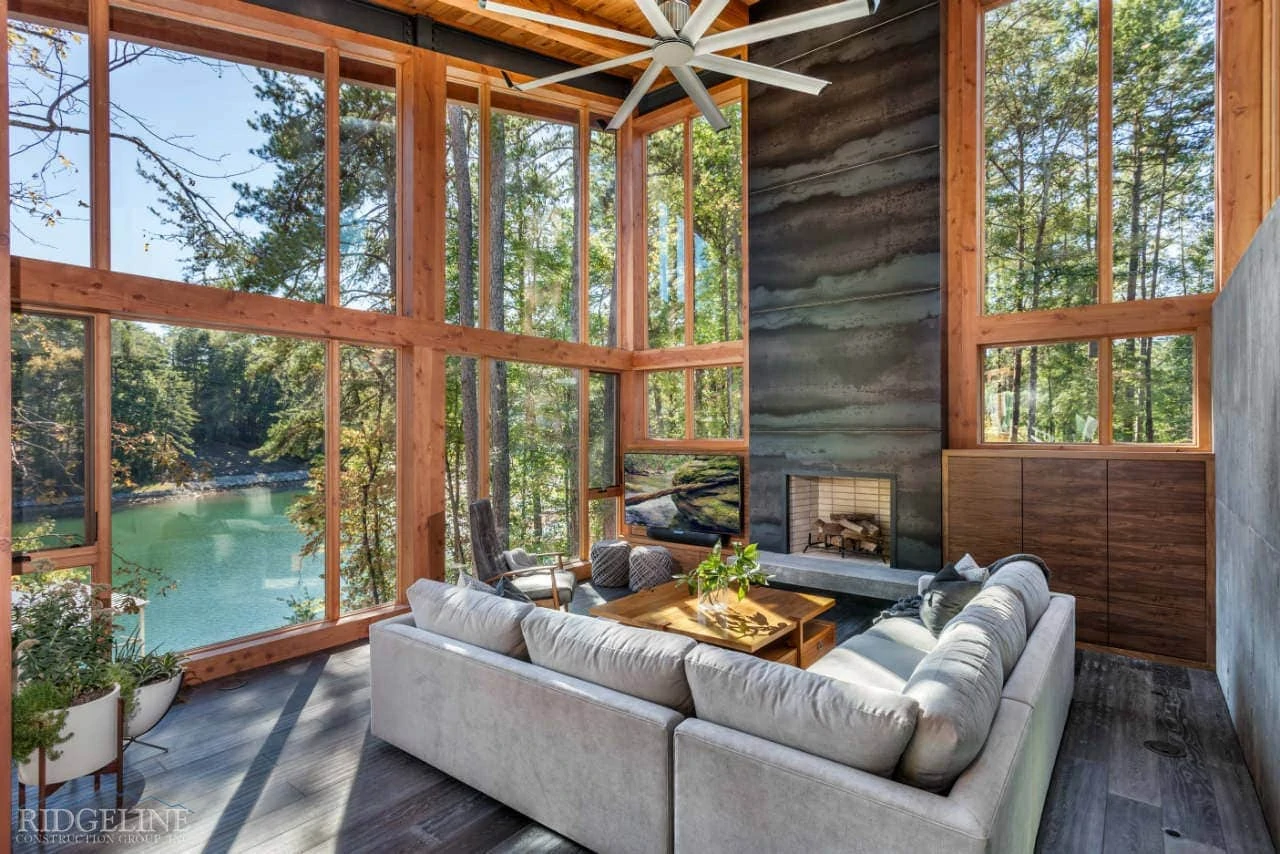 With a new year comes new goals, new dreams, and new beginnings. Have you been waiting for the right opportunity to invest in the perfect custom mountain home or renovation? 2022 is the year for you to make your vision a reality.
This commitment brings excitement but also plenty of preparation and planning. If you are not sure where to begin in implementing your design dreams, start here. Hire a custom home builder near Greenville, South Carolina and follow these 2022 trends to make your new space everything you want it to be and more.
Elevate Outdoor Spaces and Features
With many people spending more and more time outside to enjoy the fresh air, you may want to consider new options for your outdoor deck and patio. One of the biggest design trends of 2022 is to flip your space to reflect a livable extension of your home's luxurious interior. Consider installing a built-in kitchen or a high-end smoker. A grand fireplace will draw people outdoors to enjoy the mountainous views.
This year, designers are filling outdoor living areas with upscale furniture that complements the overall style of your custom home. But your decorating doesn't stop with chairs and sofas. Many manufacturers have stepped up their game to create durable rugs, lighting, and decor to complete your furniture selections. Make this area a cozy and relaxing spot to entertain guests and enjoy time with family.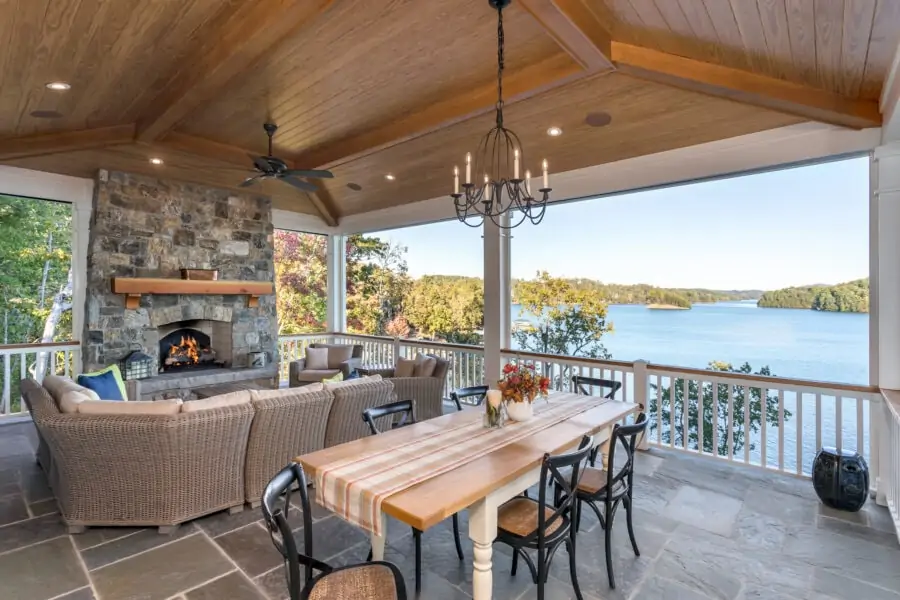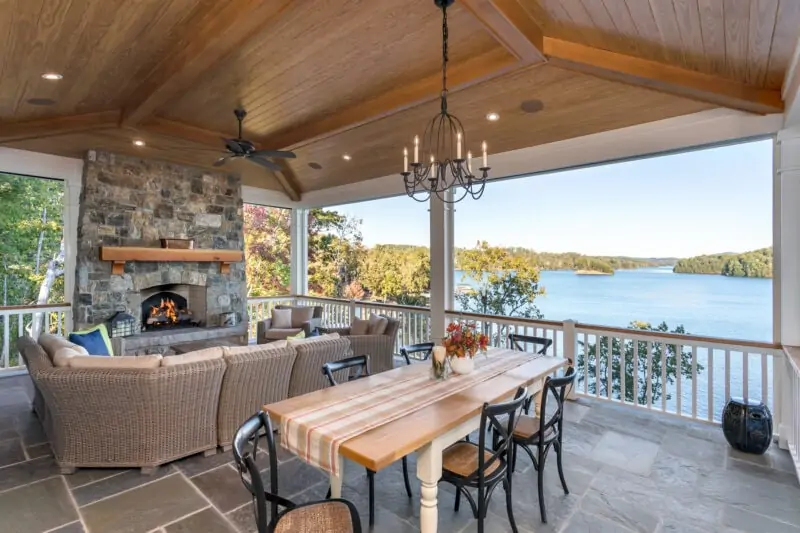 Make Your Bathroom Luxurious
Create the ultimate bathroom to promote ultimate relaxation in 2022. The bathroom of your dream home gives you many options to suit your individual needs and overall lifestyle.
The focal point of any bathroom is the shower and bathtub. Consider how many showerheads and sprays will make you feel the most pampered. Homeowners rave about rain showerheads and dual shower heads that provide optimal coverage. Additionally, you may want a handheld sprayer for added convenience and accessibility.
For even more comfort, consider adding a built-in bench or shelf to your shower. This sauna-like feature will allow warm steam to filter through your lungs for a little longer while you get to relax your legs. Also, consider the location of a bench. If you have a window near your tub, a bench would be perfectly placed there to take in the beautiful mountain and lake scenery.
To meet your design expectations, choose a natural stone or marble that sparkles when the sun shines through your bathroom window. Light and bright marble or quartz are excellent options for luxury.
Did you know heated bathroom floor tile is also an option for your custom home build? This trend will transport you straight to the spa in your own home. Heating tile floors are easy to install, which makes them a no-brainer.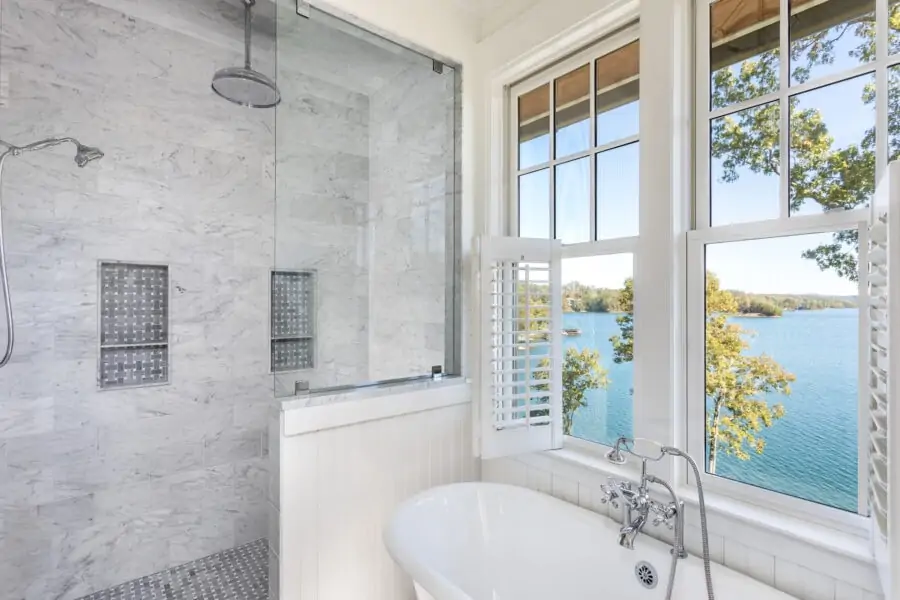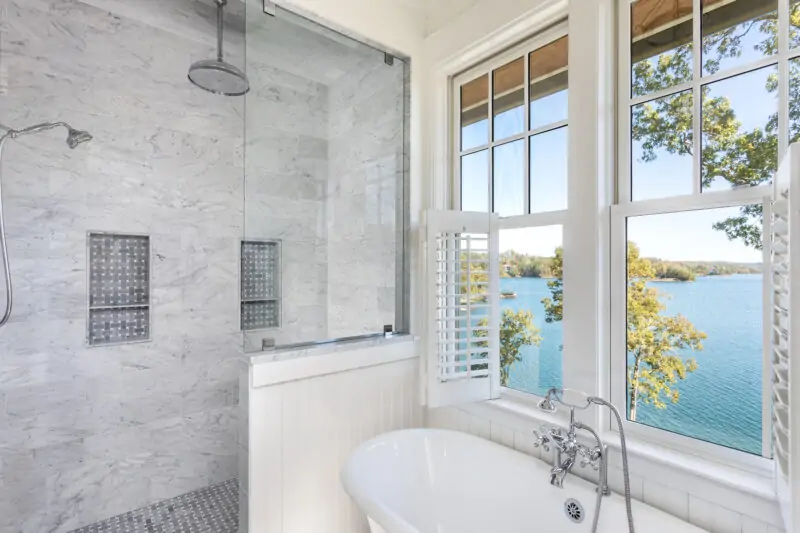 Bring the Outdoors, Inside
Biophilic design has gained major popularity over the last couple of years and is a major trend in 2022. This concept brings nature indoors and stimulates all of the senses. During two years of staying inside due to COVID-19, people are craving connection with nature more than ever.
Invite natural light, natural elements, and green plants or vibrant flowers into your space for a visual representation of nature. Consider installing large windows to showcase the beautiful natural views that are right outside your door. Plan your custom home keeping in mind the views from your windows.
In 2022, you will notice neutral palettes and natural textures gaining popularity. Designers recommend light browns, ivories, whites, stone blues, and light greens for walls and accents in your home. Textures involving flora and fauna, and earthy materials like stone, wood, and clay also have designers talking. These materials will create a refreshing and inviting environment to call home.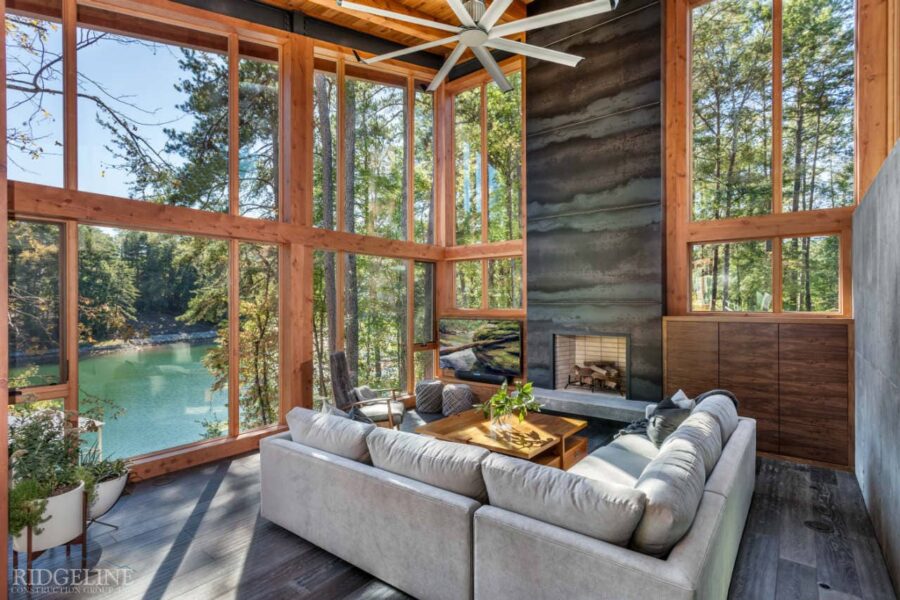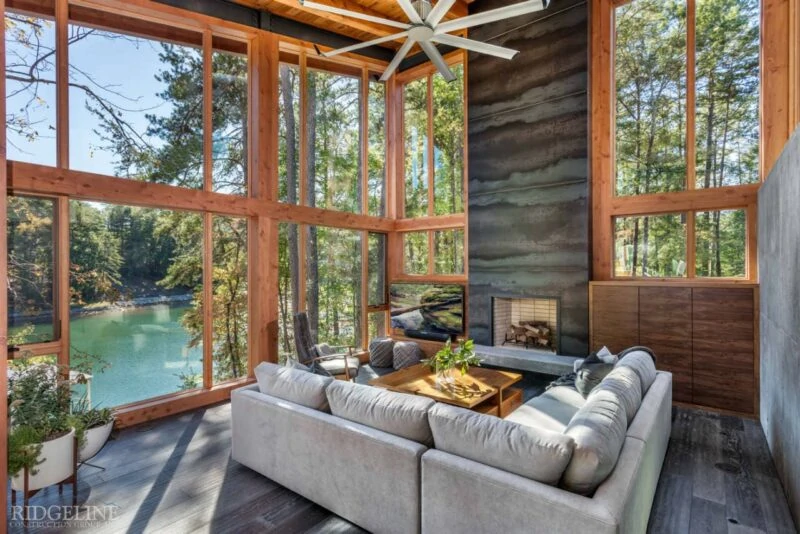 Incorporate Technology and Sustainable Materials
When building or renovating your custom home, consider adding smart technology and using sustainable materials when possible. For example, you can build using recycled and reclaimed materials like repurposed stone for countertops or wood for high ceiling beams.
An additional consideration for a custom home upgrade is energy-efficient lighting. Choose LED lights for the most light for the least amount of electricity expenditure. You can also search for new furniture made from sustainable, recycled materials. Following these sustainable design trends will be better for you and the environment.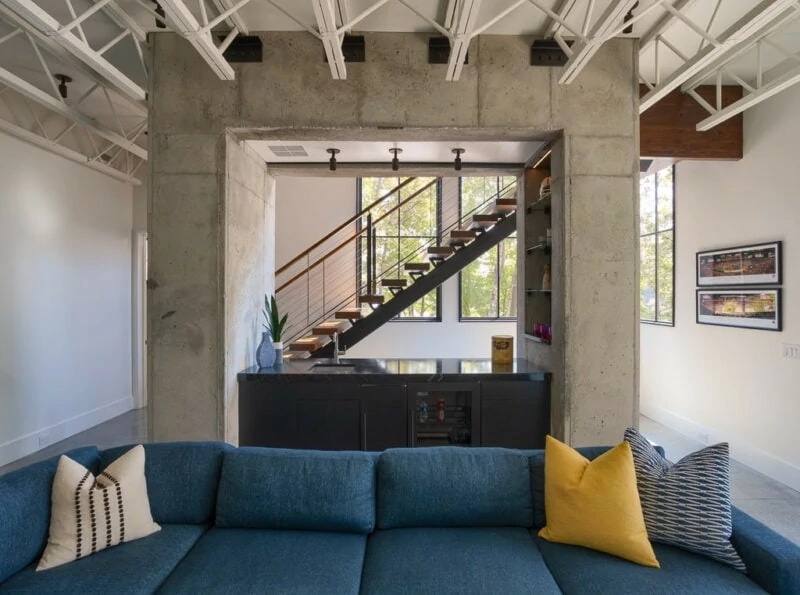 Be Bold in the Kitchen
Make your kitchen space an extension of your creativity. With an eccentric and personalized kitchen there is more room to draft up unique recipes and memorable moments. In 2022, use pops of color throughout the space for a splash of personality. Unique wallpaper or textured backsplashes will draw the eye and be its own piece of artwork.
When dressing your space with details, make your functional pieces more exciting. Add an antique island table to draw the eye. Install statement countertops or an eye-catching kitchen island.
Light fixtures also leave room to show off your creativity. Choose one that completes your space and complements your style. Maybe an artistic feature calls to you or maybe you prefer a minimal approach and opt for under the counter lighting. Your choices are limitless.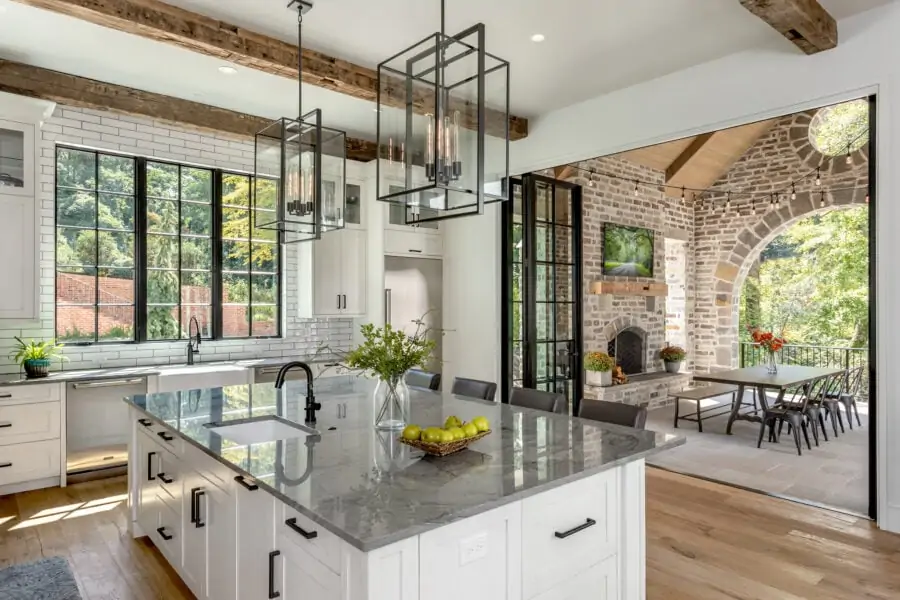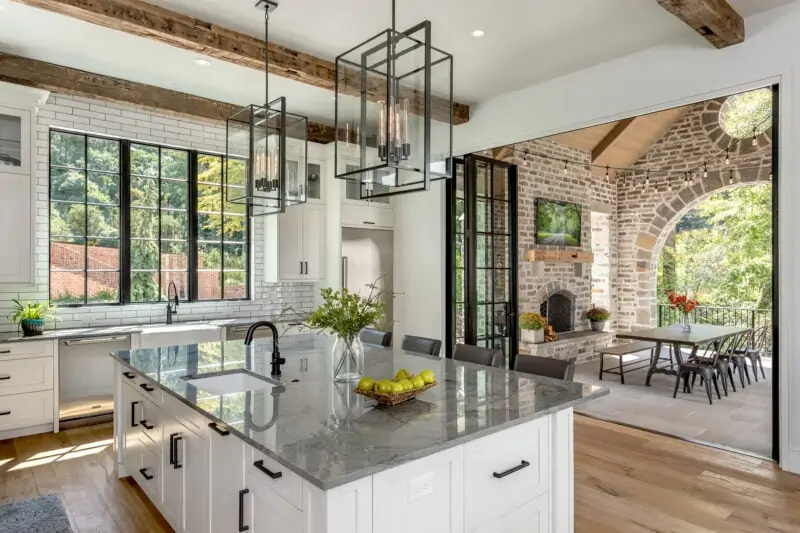 There is no time like the start of a new year to plan the design of your custom home. Find inspiration in these five trends and contact Ridgeline Construction Group in Greenville, SC to start building the mountain home of your dreams.