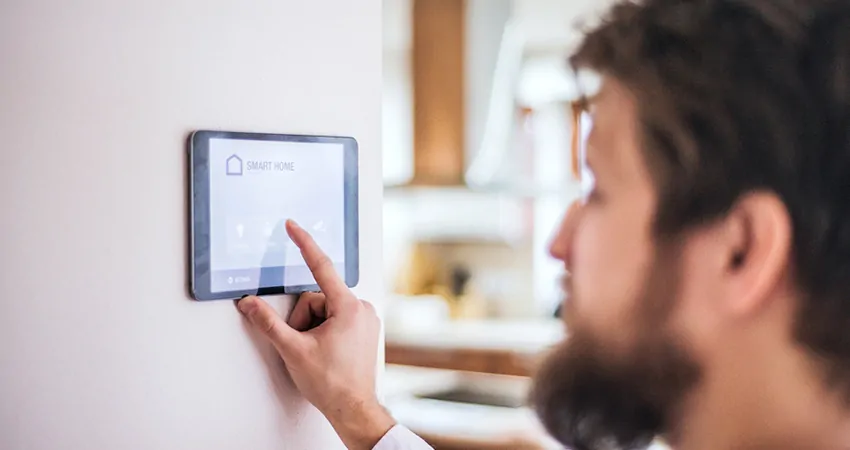 Having the opportunity to build a custom home to your exact specifications is an exciting opportunity. From making selections on finishes to working with an interior designer, there's nothing better than coming home to a space that checks off every box on your wish list.
Another critical component of your new home's design is the technology used. Smart home technologies on the market today are built to improve your home's efficiency, safety, and overall enjoyment you'll get out of your space. Ahead, we share five smart home technologies to consider incorporating into a new home.  
Smart Thermostats
In an area like South Carolina where the temperatures are constantly changing with the seasons, incorporating a smart thermostat is an easy choice. Smart thermostats such as Nest and Ecobee have the capability to learn your heating and cooling habits and automatically make adjustments to improve your overall comfort.
Smart thermostats can be controlled by your smartphone, which means you don't need to physically be in front of your thermostat to make adjustments. Many also come with the capability to sense when the home is empty, allowing the HVAC system to go into Eco Mode. As a result, homeowners benefit from reduced energy consumption and lower utility bills.
WiFi Controlled Doorbell Cameras
WiFi controlled doorbell cameras are another technological advancement that gives homeowners greater control of their home security. Doorbell cameras have the ability notify you of a visitor via a smartphone app no matter where you are, allowing you to check on the status of deliveries and keep track of activity around your home.
Wireless Door Locks
Never worry about forgetting your keys or having to dig them out of the bottom of your bag while your hands are full again. Wireless locks enable you to control entry into your home with an app or custom code.
Smart Window Blinds and Lighting
Many people don't realize how difficult it can be to manually optimize home lighting conditions, and how an improperly lit home negatively affects your comfort. Smart blinds and lighting systems adjust for changes in cloud cover or the sun's position, for example, allowing homeowners to maintain ideal light levels.
Want to watch a movie and darken the room? These window treatments, in addition to your in-home lights, can be controlled through a smart home speaker such as Amazon's Alexa. This technology is especially helpful if you have hard to reach windows.
Smart Home Hub
A voice-activated smart home hub is the digital brain that connects all of your smart home technologies. Software updates for these hubs add new features on a regular basis, so it can adapt as you add new connected functions. Choosing a hub can be tricky, but just remember these three things:
Make sure the hub can communicate with your existing smart technology

Find a hub with customizable features to fit your needs

Look for an all-inclusive hub for easy set-up
While you can purchase and install many smart home features yourself, incorporating these devices into your home during the design and pre-construction stages is ideal. This is especially true for technologies that go inside walls, within window frames, or other hard to reach places. As a luxury custom home builder in the Carolina's, Ridgeline Construction Group is able to advise homeowners on choosing the right smart home technologies based on their lifestyle needs. Contact us today to learn more about how we can help you design and build a custom home that exceeds your expectations.