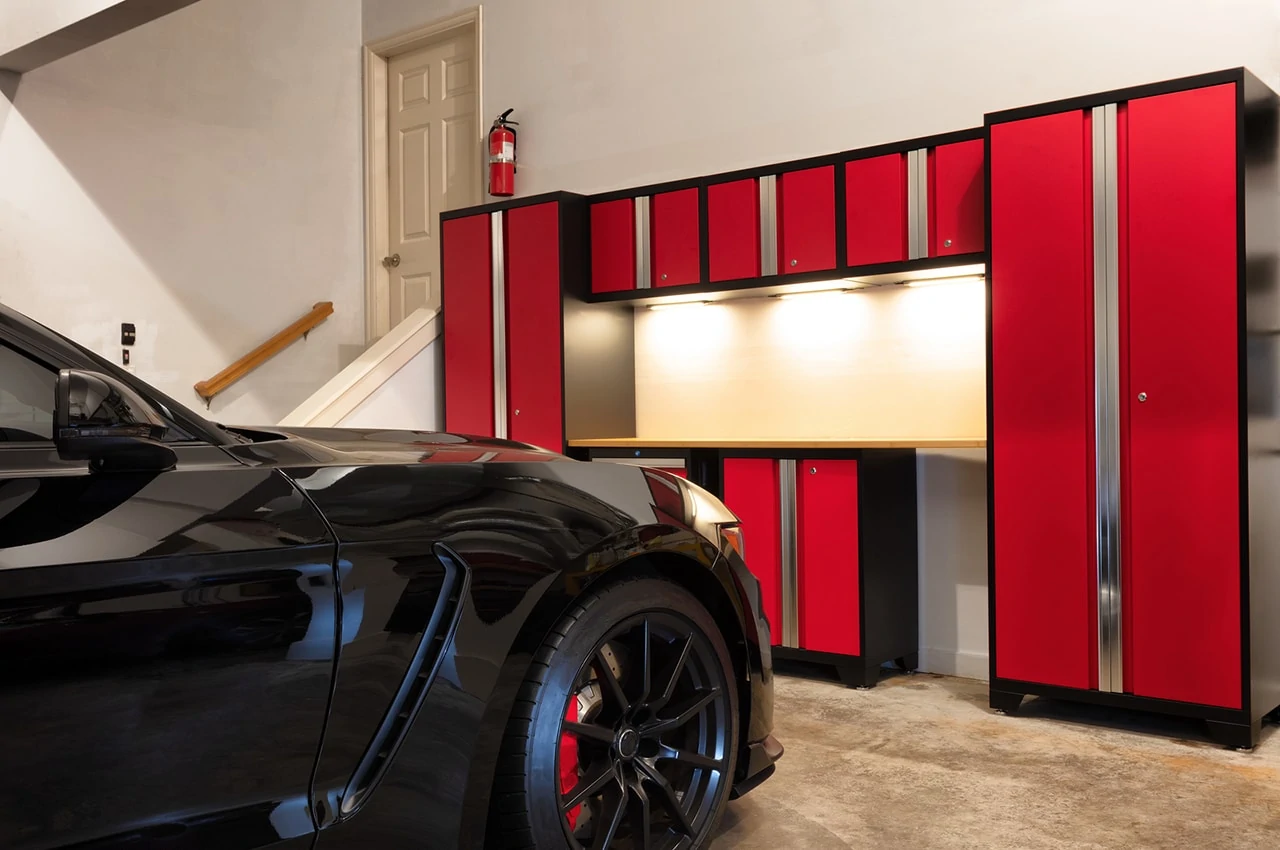 Your garage can be an incredibly useful space that can help you love your custom home even more, as long as you pay attention to some of the most important design elements. Find out how you can get the most use out of your custom garage and create a space that makes your life easier.
Choose the right flooring for your needs
There are many types of flooring material and coatings that work well in garages. The one you choose for your custom space will largely depend on what you plan to use it for as well as your aesthetic style. Do you need something that is protected from oil or chemical spills, or are you going to be running appliances and want a material that resists heat well? Depending on your requirements, you may choose something as simple as painted concrete or a more decorative interlocking tile design.
Create custom lighting for specific projects
In standard non-custom garages, lighting is often an afterthought and homeowners end up with a minimal amount of light within the space. But many people need enhanced lighting in a garage to illuminate storage areas or provide light for certain projects that will take place there. Lighting can also act as a security measure if you install lights connected to motion sensors that can alert you if someone tries to break into your garage.
Use cabinets for optimal organization
Building a custom garage gives you an opportunity to significantly expand your home's cabinet space and ensure that you can stay as organized as possible. As you begin to design your garage, consider the amount of cabinet space you will need for overflow household items such as cleaning products, as well as garage-specific storage items such as tools, outdoor equipment, etc. Then, you can work with your builder and design team to create a setup that truly allows you to have a place for everything in your home.
Maximize your garage space with wall mounts
Something as simple as including a few strategic wall mounts throughout your garage can help you dramatically increase the workable space of the area. Bicycles are an obvious candidate for a wall mount, but there are many other things you may not think of that you can hang in order to create more free space and increase the versatility of your garages, such as power tools, pool accessories, and grilling equipment.
Creating a garage that meets your unique needs is an important step in designing your custom home, but it's only a small part of what will ultimately become your dream residence. When it comes to the garage or the living area and everything in between, it's crucial to work with a builder that can guide you through every phase of the process from design to completion. At Ridgeline Construction Group, we specialize in building distinctive luxury homes throughout the Greenville area, so contact us today to begin the process of creating the home you've always wanted.