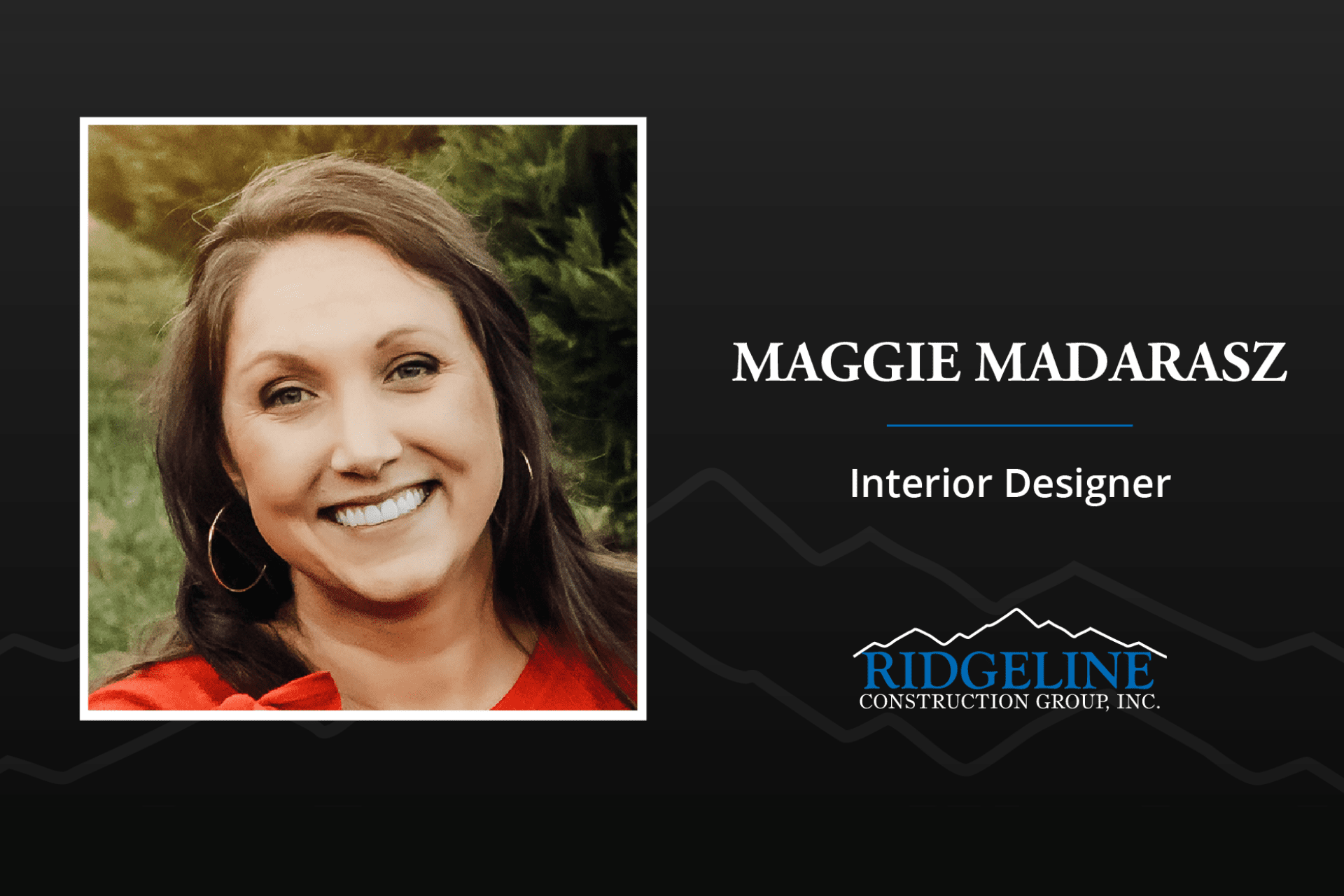 When working with the Ridgeline Construction Group, you can expect our entire team's full dedication to create the home of your dreams. Our interior designer, Maggie Madarasz, has worked tirelessly for the past 7 years to make each custom home unique, luxurious and specific to each client's specifications. Her detailed eye and professional experience are unmatched, making her an invaluable asset to the team.
A Passion for Interior Design
At a young age, Maggie always had her heart set on interior design. As a child, she would constantly rearrange her bedroom furniture, and experiment with different design layouts. A childhood friend of hers recounts Maggie answering the common question in preschool, "what do you want to be when you grow up", with the same answer: an interior designer.
Maggie has been working in the interior design industry since 2010 and became NCIDQ certified in April, 2013. Before coming to Ridgeline, she worked for five years in the Naples/Bonita Springs areas of Florida at a high-end, full-service design firm. There she gained plenty of valuable experience and style expertise from local experts. The next chapter for Maggie began when she interviewed with Ray Floral, the founder of Ridgeline, where she said the company "just felt right".
A Supportive Environment Fosters Her Inspiration
To Maggie, the Ridgeline team feels like family. She mentions that when your team feels like family, it makes the work that much more enjoyable and inspires her even further. As the in-house interior designer, she enjoys the thrill of sinking her teeth into a new project and being able to get into all the little details. There is so much excitement for Maggie when she falls into the "design-rabbit-holes". The unique, little details in Ridgeline's custom homes are what set them apart from other builders.
Experience a Team Win, Everytime
Maggie considers the success Ridgeline has experienced over the past few years to be accredited to the transparency the company offers to its clients and never sacrificing quality. She also believes the level of expertise both Ray and Terry Lawler, the Director of Field Operations, expect pushes the entire Ridgeline team to produce nothing but perfection.
Ridgeline's team starts every project with the mindset, "if it were mine, what would I want or expect". Maggie believes this mentality sets them apart from other builders, and is the reason why blood, sweat, and tears are in every home Ridgeline works on.
"I have gained such a deep understanding of how a small decision can cause a huge ripple effect across all trades and really affect the client, the completion date of a project, and the budget. Learning to be understanding and flexible throughout the build process has been one of my biggest takeaways so far."
Perspective on Interior Design Industry
With the current state of the housing market, Maggie expects more people to start building custom homes over the next five years. During the pandemic, many people realized how important it was to have a personalized space and designated rooms for work or play.
Homeowners now want their space to include amenities and have a resort-like feel. Maggie has seen a spike in people adding pools to their property, which also falls in line with the interior design trend that emphasizes health and wellness.
Maggie's go-to decorating advice is to always keep the big picture in mind. It is important to make sure the exterior and interior flow and speak the same language, and to not make decisions under a microscope. Your entire custom home should feel connected.
The Future of Ridgeline's Custom Homes
When looking toward the future, Maggie hopes to see continuous growth for Ridgeline. Every year Maggie has worked at Ridgeline, she has noticed that they have been taking on bigger and more detailed projects and working with elite clientele. The project scopes keep things interesting and push her towards creating an even more extraordinary home than the last.
Life Outside of Interior Design
Maggie enjoys spending time with her husband, two daughters, and cats at home. Living in Greenville, South Carolina has given her so much joy, as she admires the stunning landscape and natural beauty. After moving to Greenville seven years ago, she believes it was one of the best decisions she's made.
Ready to design your home's interior with Maggie? Contact Ridgeline Construction Group to turn your dream into reality.