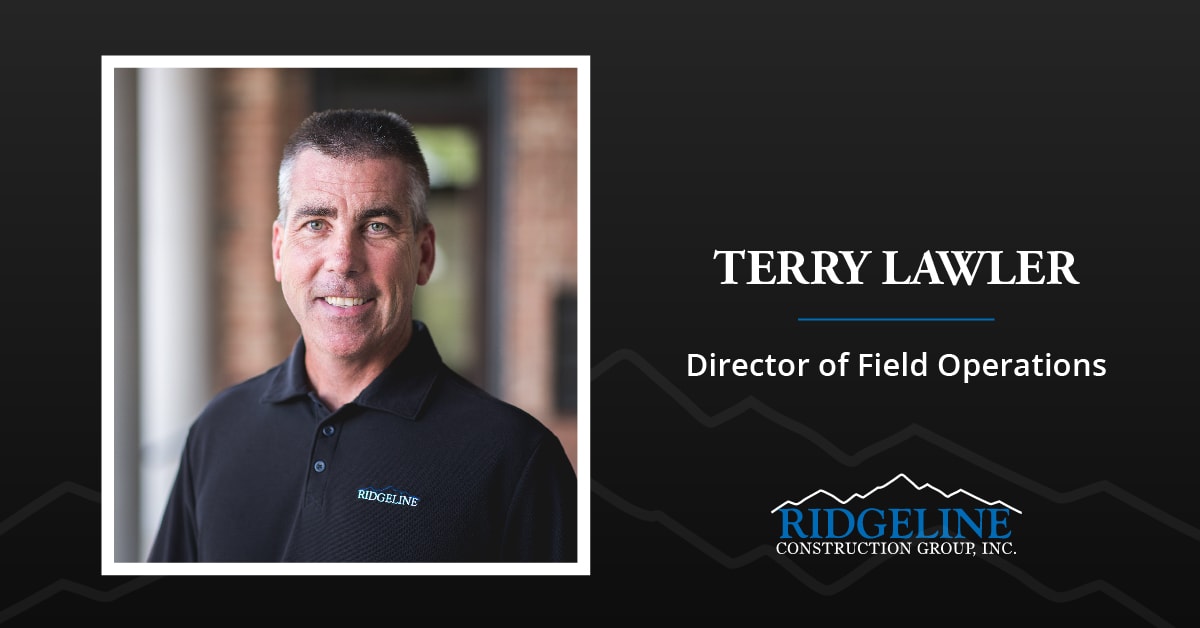 The Ridgeline team comes with years of experience that has largely contributed to our value and success as a custom home builder. We are so thrilled to have backgrounds in some of the most luxurious locations in the country. One team member specifically has added worth to Ridgeline beyond compare, and that is our Director of Field Operations, Terry Lawler.
We learned more about Terry's background, experience and why he feels like Ridgeline provides a custom home experience unlike any other.

Rocky Mountain Roots

After being a mechanical engineer for a few years, Terry decided to start his very own framing company in Colorado. Then, he decided to try his hand at project management while working for a developer in the Vail area. At that time, this developer had just opened a new branch of the business in South Carolina.
When Terry decided to transfer there he met Ray Foral, who had also worked for the same developer in Colorado. They started working together in SC, not knowing that the future would join them together as partners to create Ridgeline Construction Group.

Obstacle Breeds New Opportunity

When the recession hit in 2008, the developer they were working for had trouble maintaining sales. Terry and Ray saw this as a chance to start a new business together. Launching a brand new construction firm in the middle of a national recession is not always the first thing that comes to mind. But, it was a risk they were confident enough to take.
They started off strong with a clear mission to be the best builder in the Upstate.

Exceeding High Expectations

Over the years, Ridgeline Construction has grown into one of the most well known custom home builders in the industry. Terry believes their initial mission of "being the best in the upstate" has been met and exceeded. This reputation, though, didn't come without hard work and close attention to every detail.
"We don't leave anything to chance and will do whatever it takes to make things right, even if it costs us lower profits to do so," Terry said.
Initially a team of four, Ridgeline has hired an additional 15 employees to ensure each and every client enjoys their custom home building and buying experience. "Our clients range from professional athletes to CEO's of huge companies so their expectations are extremely high, and we consistently hear that we exceed their expectations," he said.
There is something to learn from every client interaction that can apply to future projects. For Terry, it's all about putting the client first. "I have learned that every detail matters. I have also learned that if you take care of the client and always do the right thing then success will follow," he said.

A Knack for Project Management

As Director of Field Operations, Terry's years of experience come in handy. From managing onsite superintendents and project managers to coordinating all of the engineering, he's in charge of overseeing all aspects of every project from beginning to end. "Overall, I have to make sure every project is consistent with Ridgeline's standards and special details," he said.
Terry loves to put his critical thinking hat on in order to solve problems. "I love working with engineers, architects and interior designers figuring out the most complex details of each project," he said.
At Ridgeline, it's all about the moving parts coming together through collaborative communication and transparency. That's why he believes passion for the job is a crucial part of what makes the business thrive. He said, "Ridgeline is a great place to work because of the people who all share the same passion as Ray and I for being the best builder in the SC. We get to build spectacular homes that are all unique."

Long Term Projections of Growth

Project cost has grown exponentially over time for Ridgeline. Terry said, "The types of projects we do have grown from an average investment of $1 million to now doing consistent projects in the 5 to 7 million dollar range." This allows for more internal expansion and more motivation to sign on to even bigger projects.
But what drives clients to work with Ridgeline over other custom home builders? Their owners' hands-on approach sets them apart from the rest.
"Our structure is different from others. Our home owners are heavily involved in each project to ensure client satisfaction. We have two people on every project, one project manager and one superintendent and we have systems and protocols for every aspect of the business which is, again, not normal for our industry," he said.
Ridgeline employees always strive to do what's right for the client. "Most builders will set profits first and that is not how we operate," Terry said. Instead, their client-centered approach and caring attitude is what they deliver first and foremost, day-in and day-out.
Terry expects even more expansion over the next five years that mirrors the last two years of exponential growth within the construction industry.

An Outdoors Enthusiasts with a Special Love for Greenville

Outside of his dedication to the field, Terry enjoys anything that puts him in nature. He specifically loves to ride motorcross, camp, boat and hunt.
Greenville is a great place for Terry and his family to call home. "I like Greenville because everything is so close and accessible. You can be in the mountains or on the lake in an hour and the beach in four hours."
Terry Lawler and Ray Foral started Ridgeline Construction Group with one goal – to be the best custom home builder in Upstate, SC. That goal has driven them to huge success in constructing incredible experiences for every client. Contact us to get started building the home of your dreams.