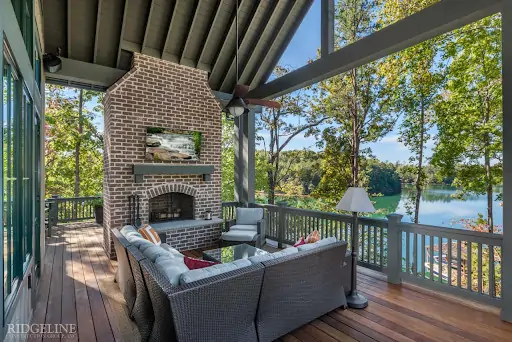 Fall is here and there's a chill in the air to prove it. But don't you still want to enjoy the beautiful foliage of the Blue Ridge Mountains and surrounding areas? The leaves change once per year, so we invite you to install the perfect outdoor fireplace to stay warm and soak in the views.
Outdoor fireplaces come in many shapes and sizes that will suit your custom home's unique style. But there are other details to consider when choosing your outdoor fireplace.
Style
Before you commit to a design that matches your home, think about the overall scale of your home and its landscaping. What size would look best in the space you allotted for your outdoor patio area? For example, a large fireplace wouldn't compliment a small yard very well and vice versa.
Additional considerations include any outdoor furniture you have selected. Will the style of your fireplace complement your furniture? What colors and textures would look best?
Does your home get its inspiration from the mountains or Mediterranean? Design options for your outdoor fireplace are built to couple your overall style. Choose from multiple different colored and textured stone facades as well as different heights and widths that work to evoke the impression you desire.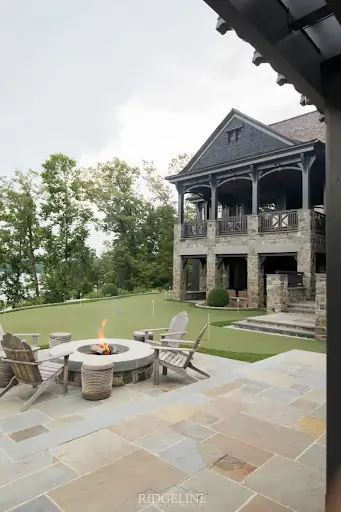 Location
Before the build begins, it's important to consider the positioning of your custom outdoor fireplace. Settle in the direction it faces and where it is located in relation to furniture, home exits and entrances, and windows.
An outdoor fireplace is supposed to keep others warm and comfortable. You'll want to measure the space you've allowed for seating to make sure you leave enough room for people to sit comfortably by the fire.
Additionally, your state or county may require your fireplace to sit a certain distance away from the house. Make sure to do your research and communicate with your contractor before you settle on a spot.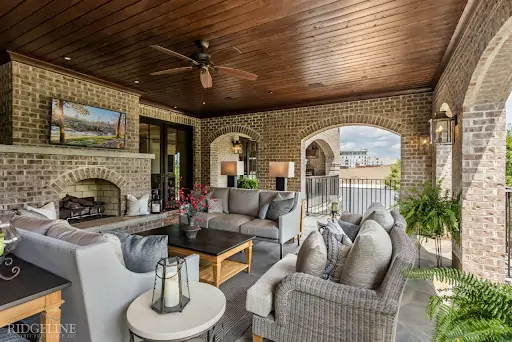 Ventilation
Chimneys are the most classic means of proper fireplace ventilation. If you're hoping for a wood-burning fireplace, these are essential. Communicate with your builder to ensure they create the proper size flue and "smoke shelf" to avoid an uncomfortable downdraft of smoke.
However, outdoor gas fireplaces offer two different options to keep the smoke away. You can choose "direct vent" or "vent-free". Each one works to release harmful byproducts and hot air into the atmosphere.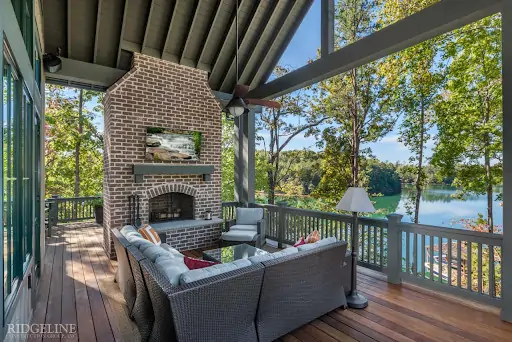 Safety Considerations
Here are some quick tips to make sure your outdoor fireplace operates safely:
Check local regulations to make sure your fireplace is created in compliance with any laws.
Gather necessary construction permits before you begin the build.
Keep a fire extinguisher close to the fireplace just in case.
Your dreams don't stop at an outdoor fireplace. The contractors at Ridgeline are here from start to finish to make your dream home a reality. We pride ourselves on guiding you through the complete process. Contact us to build a custom home with Ridgeline Construction Group.