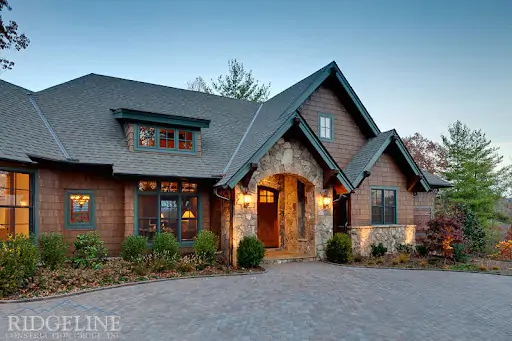 Is your roof in need of a facelift? Or are you looking for guidance during the custom home build process? Choosing the right roofing material is crucial to your custom home's longevity. A durable roof works to maintain all of your home's luxurious interior and exterior features, sustain a functional heating & air system, and most importantly, keep your loved ones safe.
Here are your roofing material options for your custom home.
Concrete & Clay
Do you envision your home on the shore of the Mediterranean? This type of roofing lends to the unique European look you've been dreaming of. Not only that, but its reflective appearance is energy-efficient, fire-resistant, and comes in a variety of colors & textures to suit your style. However, this material is particularly difficult to install due to its heavier weight and won't match every home style.
Asphalt
The cost-effectiveness of this material beats all the rest. As the most common choice, asphalt comes in the standard option as well as fiberglass make. Pick from a variety of colors and prices to suit your style and budget.
Asphalt is the easiest material to repair and replace, which you may have to do after a storm since it is known to suffer damage from high winds. Additionally, the material is made with petroleum products and is not recyclable. Therefore, an asphalt roof is not the most environmentally-friendly choice.
Wooden Shingles
Whether you're looking for cedar, teak, redwood, or even white oak, you can almost always find wooden shingles to match your desired home aesthetic. That's the benefit when you choose wooden shingles as your roof material. They are also a strong option for durability and maintenance of heat & air levels.
Wooden shingles' intricate installation comes at a higher cost than other materials. But the higher price is worth it in order to reduce the likelihood of future repairs. However, they can be extremely flammable, especially during dry weather so consider your climate when choosing a roof.
Slate
Slate roofing is perhaps one of the strongest and most durable roofing materials. Each 3-foot wide strip or metal panel is complete with multiple slate tiles that are all installed one at a time. After installation, this material is sustainable with very minimal maintenance required.
Slate, though, does require a sturdy foundation and a strong frame. Talk to your contractor before you make the purchase in order to ensure your home is able to withstand the weight of slate roofing.
When building your custom home, you'll want every detail to be just how you imagined it. The many options for your roof's material offer the durability and functionality your new home deserves. Pick the right color, texture, and type to add to the home's overall value and create the home you've always dreamed of. Contact us to start on the journey of building your custom home.