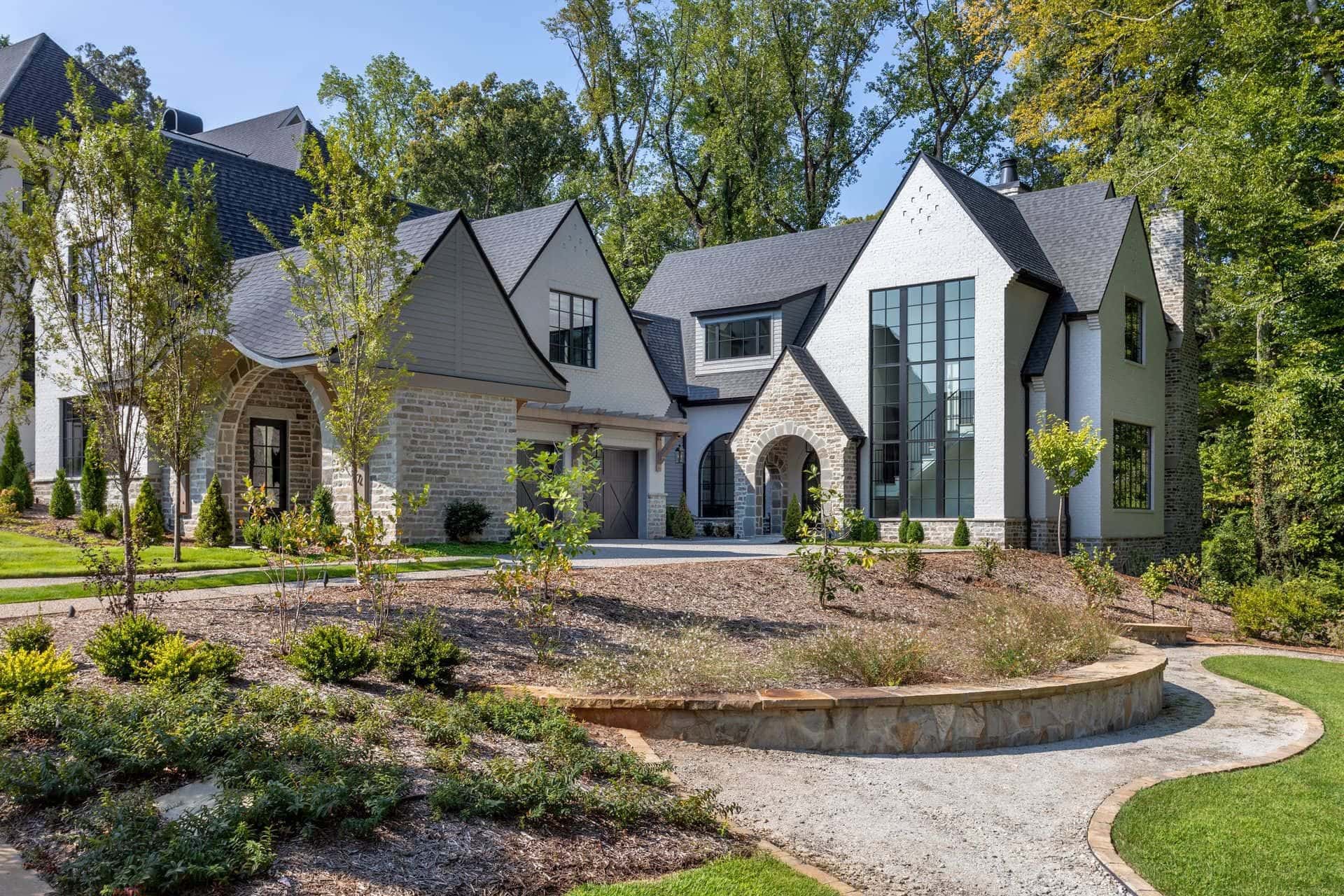 Landscaping is the key to enhancing your home's curb appeal and creating an inviting outdoor space. However, it can be overwhelming to tackle without the right guidance. At Ridgeline, we're here to offer valuable tips and ideas that will help you approach your home's landscaping with confidence.
Landscaping To Match Your Custom Home's Style
Beautiful landscaping can be the perfect addition to your outdoor space, but first, it's important to determine what pairs well with your custom home design. Choose landscaping styles that complement your home's architecture to create a harmonious and visually appealing environment.
Modern Farmhouse
Enhance your modern farmhouse home with landscaping that balances rustic and modern elements. Add flowering plants and use materials like weathered wood or galvanized metal to achieve a natural look. Complete the farmhouse look with a porch swing or rocking chair.
Contemporary
Create a contemporary outdoor space with landscaping that is clean, simple, and emphasizes symmetry. Use geometric shapes and straight lines to create a seamless connection between your indoor and outdoor spaces. Add elements like gravel pathways or concrete pavers to enhance the modern aesthetic.
Traditional
Landscaping for your traditional home should reflect a sense of elegance and formality. Consider symmetrical outdoor plants like hedges or flower beds to create a vibrant space and maintain a sense of balance. Classic features like paved walkways, stone walls, and garden benches can further enhance the traditional charm of your outdoor space.
Universal Home Landscaping Ideas
Regardless of your home style, these 2023 landscaping design trends are sure to elevate your outdoor space. From outdoor living areas to high-tech water features, complete your dream custom home with these landscaping tips in mind.
Sustainable Landscaping
To maintain a sustainable outdoor space, incorporate native plants into your garden that require little water and maintenance. Consider installing a composting system to recycle kitchen waste and nourish your garden naturally.
Outdoor Living Spaces
Create a cozy outdoor living space with comfortable furniture, cushions, and throws. Install an outdoor kitchen or barbecue area for dining and entertaining the whole family can enjoy. Consider adding a fire pit or outdoor fireplace to extend your outdoor living season into cooler months.
Water Features
Water features bring a sense of tranquility and add a visual focal point to any landscape. Whether it be a small pond, cascading waterfall, or decorative fountain, the sound of flowing water can create a calming atmosphere and attract birds and other wildlife to your garden.
Smart Landscaping
Embrace technology and install irrigation systems with moisture sensors, weather-based controllers, and smartphone apps. These systems help conserve water by providing the right amount of irrigation based on real-time weather data. You can also install smart lighting systems that can be controlled remotely or set on timers to create stunning visual effects.
Contact Ridgeline Construction Group
At Ridgeline Construction Group, we build with landscaping in mind to bring your dream custom home to life both indoors and outdoors. Consider these home landscaping ideas and contact our experienced team of custom home builders today to get started on a home and outdoor space you'll enjoy for years to come.