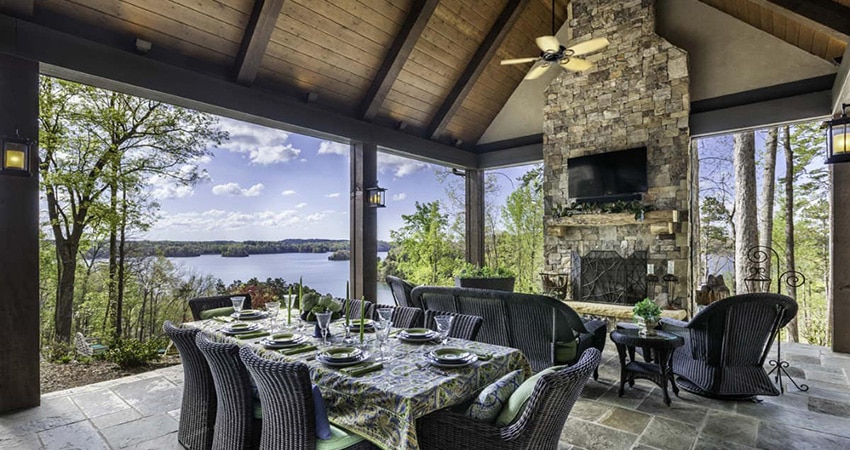 Having an outdoor space where you can relax and entertain is a dream for many homeowners, but once you find the right space, you have to decide how to design it for the optimal blend of comfort and functionality.
Make the foundation welcoming
Laying down harsh stone pavers might be practical for a walkway, but if you plan to have an outdoor living space they won't do anything to contribute to the design. Instead, consider installing all-weather "wood" flooring, which will hold up for years under a variety of harsh conditions while mimicking the elegance of a real wood floor.
Give people something to gather around
One mistake that people often make when designing outdoor spaces is that they're too open concept. You want guests to have room to mingle, but people are also looking for a focal point that they can gather around. There are many different options, but one of the most hospitable and functional choices is a fire pit or built-in gas fireplace. Your guests will naturally gravitate towards a heat source, and it will help provide some extra comfort on those nights you might otherwise spend inside your home.
Cooking and dining outdoors  
Grilling on the back porch is not a new concept, however, there are ways to take your outdoor cooking space to the next level Your grill, refrigerator, cabinets, sink, and more are elements your builder can customize to turn your patio into a personalized area for dining.
Choose finishes that blend comfort and durability
Traditional outdoor seating sets can feel drab because they are often monochromatic and dominated by a single texture. In order to make your outdoor space as visually interesting as the rest of your home, you need to incorporate elements such as colorful indoor/outdoor rugs, textured planters, and patterned throw pillows. Keep in mind that these pieces still need to hold up to inclement weather so look for fabrics designed for outdoor use.
When you design your ideal outdoor living area, you need a custom home builder you can trust who will help you bring your taste and design style to life in your yard. Ridgeline Construction Group is a full-service custom home builder that helps clients create outdoor spaces that are inviting, comfortable, and designed to last. Reach out to us today to start the process of planning your dream outdoor area in your custom home.