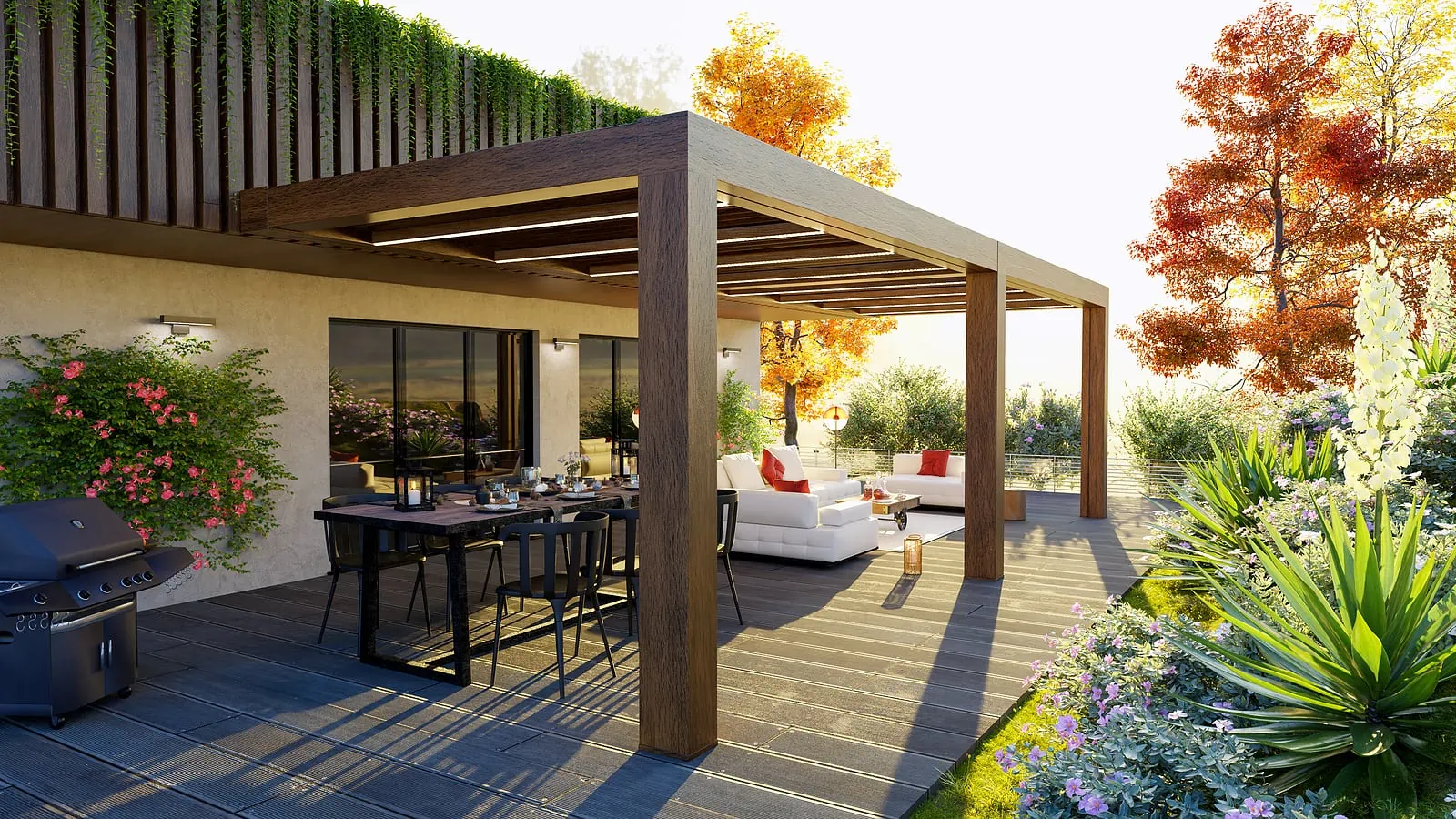 Summer is just around the corner, and it's time to start preparing your outdoor space. Add value to your backyard and create your ideal lounging area perfect for hosting parties, relaxing with the family, and enjoying the outdoors all summer long. Here are some deck and patio design ideas to bring your backyard visions to life.
Spruce Up Your Outdoor Space For Summer
As the weather grows warmer and the days grow longer, transform your patio or deck into a space the whole family can enjoy. Even a few simple touches can transform your outdoor space into a comfortable and inviting oasis perfect for all your summer fun.
From ambient light fixtures to new greenery to comfortable seating options, the patio and deck design ideas are endless. At Ridgeline, we're here to keep you updated on the newest modern patio design ideas that will take your space to a new level.
Designing Your Dream Outdoor Patio
First, determine the purpose of your outdoor patio – will it be a space for dining, entertaining, or relaxation? Then, you'll be able to determine the right size and shape for your new patio. When visualizing its layout, be sure to account for structures like trees or built-in garden beds that can't be moved.
Choose design elements that reflect your style and the outdoor atmosphere you desire. Durable furniture made from materials that can withstand elements like rain and sunlight is essential in crafting a patio that will last beyond this summer season. Or, add a partial shelter for shade and protection.
Outdoor features like stone fountains or even waterfalls are great ways to establish a backyard oasis. Consider lighting fixtures that create ambiance and allow you and your guests to enjoy your outdoor area well into the night. Incorporate overhead string lights, lanterns, or even a fire pit to add a warm feel to your patio space.
Landscaping is also an important aspect of designing the perfect summer patio. Plants, flowers, and foliage can enhance the beauty of your patio and add privacy from neighbors or other passersby. Choose plants that thrive in your climate and require minimal maintenance to ensure they last for years to come.
Why Materials Matter
When choosing materials for your outdoor space, consider a few key factors to ensure that your space is both functional and visually appealing. Consider the climate of your area when choosing wood finishes or brick types, especially if you'll experience extreme temperatures or excessive rain or snow.
Be sure to also consider the overall aesthetic you prefer, choosing materials that complement your home's architecture and landscaping. Take each material's maintenance requirements into account before implementing them to ensure that your dream backyard is durable yet manageable.
There are many pros and cons to each material option, so it is important to consider your wants and needs during the planning and construction process.
Concrete
Concrete is known to be a practical and modern decking material option, but can reach extremely hot temperatures in the summer sun.
Pressure-Treated Wood
Pressure-treated wood is one of the most popular decking material options, as it is designed to withstand things like mold, rot, and insects. However, it may become warped over time and often requires frequent maintenance.
Cedar
This material is a great lightweight option for your decking that contains natural oils to fight off insects and resist rot. However, cedar can be expensive and higher quality grades will be a big investment.
Grass
While grass is one of the most affordable options and provides a natural feel to your backyard area, it requires continual maintenance and sun exposure to survive.
Contact Ridgeline Construction Group
With summer quickly approaching, it's time to start crafting your dream outdoor living space. Take the time to choose the best materials and design for you and your lifestyle, from furniture and decor to lighting and landscaping. Contact the experts at Ridgeline to learn how to get started on your outdoor oasis.