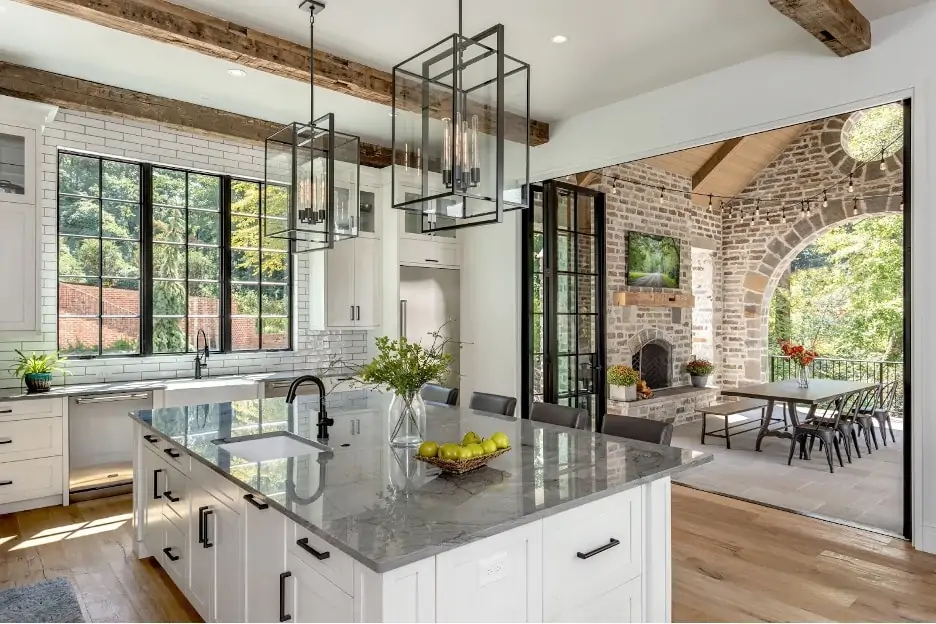 Building a custom home in the Upstate is building a dream. It all starts with an idea that transforms into reality through a sequence of several steps. The luxury of choosing every special detail that comprises your custom home does not come without patience, persistence, and knowledge of the process.
We have simplified custom home building into a few simple steps to make your experience as enjoyable as possible.
Create a Budget and Stick to It
Your custom home starts with a simple thought or maybe a vivid dream. One day, you wake up and finally decide to make that dream a reality. Before you go any further, the first step is to set a budget.
New homes can range from $80 to $200 or more per square foot. Knowing your price point is crucial to decide the size, location, and features of your new home.
When creating your budget, consider the cost of the land, local fees and taxes, designing fees, and landscaping costs to start. Once you calculate the estimated total cost, it is time to consult a home builder.
Bring a collection of paint chips, floor plans, exterior facades, and more to your initial meeting with a home builder or architect. Your pieces of inspiration will help them guide you through the initial planning phases of your custom home build.
Determine Your Timeframe
After you create your budget and choose your architect, think about your time frame. When do you want this project completed?
We know that as soon as possible is probably your response. However, take a minute to consider any major life events coming up soon. Are there start and finish dates that you need to comply with?
Consider these questions before you commit to a timeframe for building a custom home:
Is there a new baby on the way? When is the closing for your current home? When does your lease end? Does your child's school year affect when you want to move in?
Find the Right Property
The next step to constructing your dream home in the Upstate is finding the perfect lot. There are a few considerations to make before committing to the best location for your custom home.
First of all, consider the size of the lot and its proximity to neighbors. Do you have enough side and back yard space for your kids or adding in a pool down the line? It is also important to analyze the slope and direction of the lot. Is it steep or flat? What surrounds the lot? Do you notice any streams, trees, or boulders that could obstruct your home?
Some of these questions may not be answered by a simple look at the area. When you visit the lot, strike up a conversation with the neighbors. Ask them about their experience living in the area. Not only could you learn a lot about the lot and neighborhood but also schools, shopping, recreational activities, and more. Research is crucial before selecting your dream property. First, look at home values in the surrounding area. This could influence the overall value of your custom home post-build. 
Next, find out if the lot is located in a historic district. There may be additional fees or guidelines when building a custom home in a historic area.
Lastly, research zoning, wetlands, septic connections, energy code, and more. Each of these are important to the construct of your home. For example, zoning can affect the required setback distance from the street, the height of your house, and whether or not you can build a guesthouse.
Start Designing
Once you have gauged your budget, chosen an architect, determined your timeline, and found the right property, you are ready to begin your custom home design.
By working with your architect closely, you can decide on the size of your custom home. Think about how many rooms and stories you desire. Then, list out all of the rooms that you see as crucial for your custom home build. Include everything from a mudroom to the master bedroom.
Then, think about your lifestyle and match it to your home's layout. Build your custom home to suit your passions.
If you are an avid marathoner, leave adequate space for training equipment. If you are a chef hoping to open a new restaurant, make room for a larger than average kitchen. This is your custom home, so the dimensions, features, and details are up to you and your dream.

Our team of seasoned home builders constructs custom homes in South Carolina that are tailored to our client's desires. Contact Ridgeline Construction Group to start making your dreams a reality.