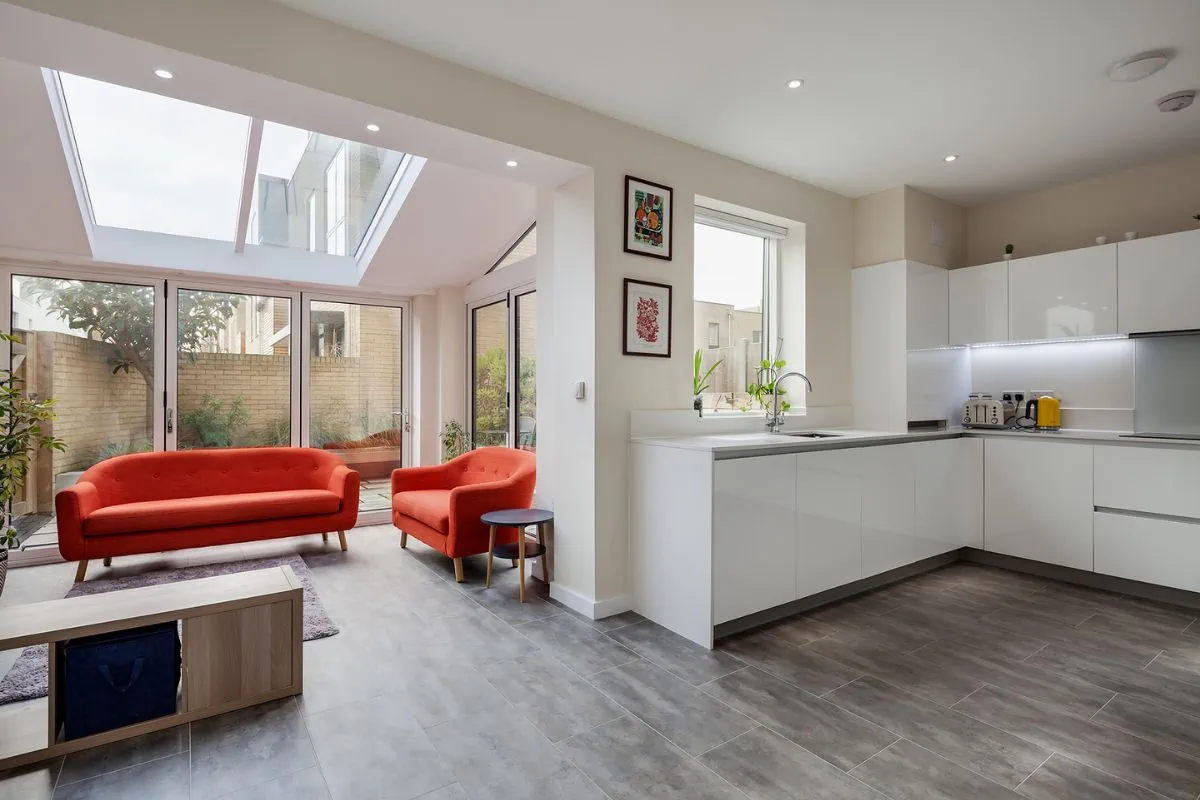 As we move into the new year, the construction industry will see a number of architectural trends take over the homebuilding space. The aftermath of COVID has inspired many changes within the home and how families are living day-to-day. Learn more about the home design trends you should consider when planning your dream home here.
Family-Style
Many homeowners are trading in formal spaces for a day-to-day layout designed for family living and comfort. This layout can be achieved through an open floor plan with extra square footage. Design a space that can be spruced up for more formal events or relaxed for lounging and family time.
Ample kitchen space including large pantries and contemporary wall space are also perfect additions to a family-style architectural design. Consider including openly displayed accent spaces like wine bars or outdoor patio areas to provide the family with a variety of places to gather.
Eco-Friendly Build
The way of the world is becoming greener, and so are our homes. Many home builders are customizing their building approaches with recycled materials, including drywall, low-VOC paints, fly ash concentrate, and more.
Sustainable architecture is cost effective for homeowners and builders alike. Repurposed materials are easily accessible and can often be bought locally, resulting in lower costs, shipping prices, and maintenance needs.
Homes that rely on renewable energy also reduce the cost of day-to-day living after the building process is complete. Foam insulation, passive solar design, radiant heating, and high-efficiency HVAC systems also have been trending for new custom home designs.
Smart Home Innovation
Many families are navigating toward smart home features that make their lives easier and more in-sync around the house. Today's architectural design trends involve lighting, entertainment, and bluetooth technology that can now be controlled remotely from the palm of your hand.
Smart technology can be incorporated into your home on a basic level with smart LED light bulbs, shower heads, or locks. Homes can also be equipped with advanced systems like smart thermostats and irrigation systems. Investing in smart technology is a great way to make your new space unique to you and your family.
Large Rear Porches
As families have adjusted to COVID-style living, homebuilders have seen a heightened demand for gathering spaces that foster community and comfort. Large, outdoor patios that feature cooking areas, eating areas, and built-in seating and lounge furniture is one of the most popular 2023 home design trends.
As outdoor living has become more prevalent, consider incorporating a patio space into your home design plans for the family to enjoy. Add in a fire pit, entertainment center, or outdoor wine bar based on your family's unique preferences.
Home-Offices are a Must Have
In 2020, working from home became the new norm. As more and more businesses have adopted hybrid policies, home offices are no longer used out of convenience. Instead, they are a must-have addition used as the primary space for your 9-5 occupation.
Homeowners need a quiet and comfortable space to work, take phone calls, and avoid at-home distractions. Consider a formal office with plenty of space to set up monitors, cabinets, and decoration. Or, dedicate a small nook or corner to a desk for taking calls without having to sacrifice lots of space in your new home.
2023 is the year to make your space unique and customized to suit your everyday life. We hope these trends help to spark inspiration in making your vision come to life within a new build. Contact Ridgeline Construction Group to help make your new year's resolution a reality!