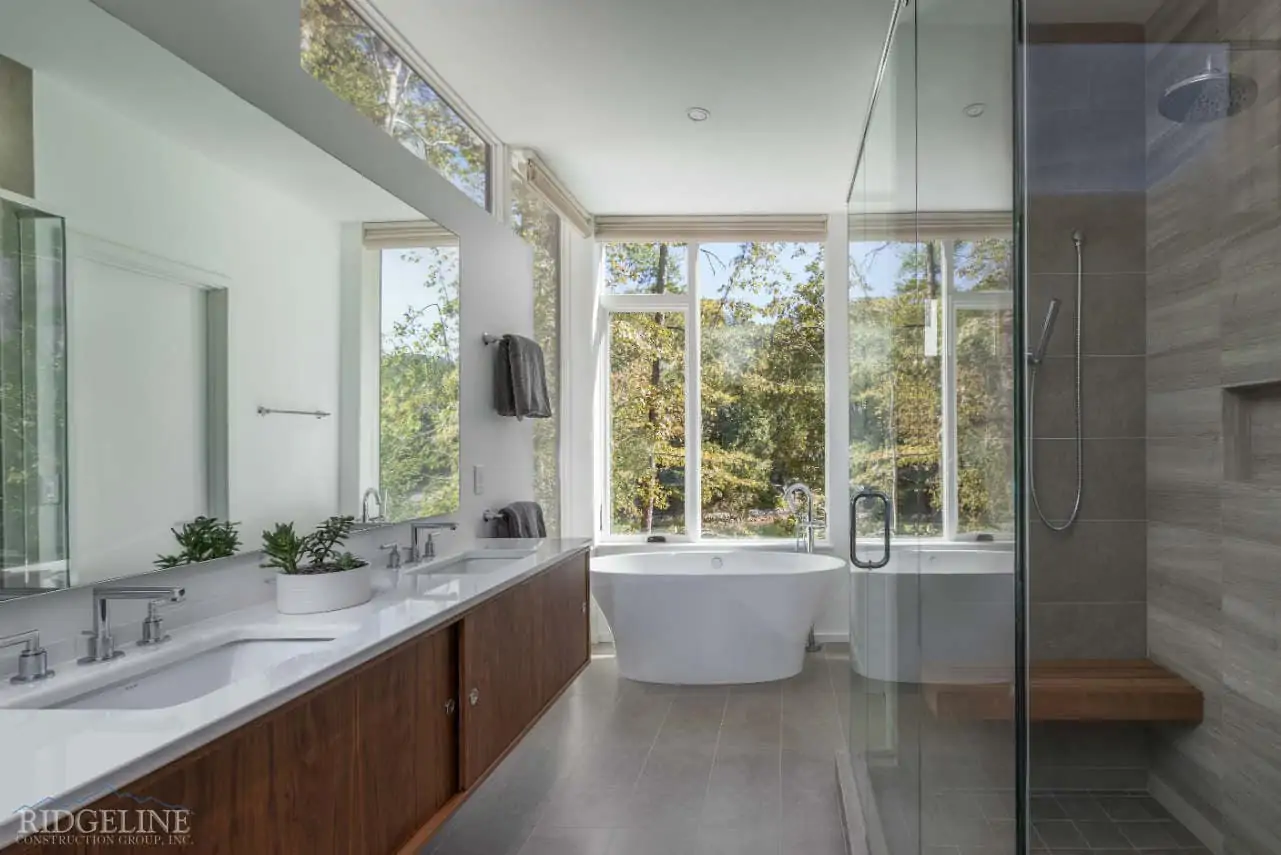 When planning to build your custom home, most of your creative energy goes into your shared spaces – the living room, kitchen, and dining spaces used to entertain friends and family are always the most seen and appreciated. 
However, it may be even more important to build your perfect personal space to encourage self-care beyond comparison. This is what a custom bathroom can provide for homeowners. The custom bathroom of your dreams invites a relaxing escape that other rooms lack. 
Read these design tips to build the custom bathroom that best suits your vision.
Choose your favorite custom shower design
There are many options when it comes to choosing a shower for your custom bathroom. 
What kind of shower head is best for you? How high should it be? Would you like a bench built-in? These questions are just the bare minimum for designing a custom shower.
Other design aspects include tile selection, glass door style (if any), and if you would like any nooks built-in for storage purposes. Create a checklist to ensure that your custom bathroom meets all of your needs.
Tub or no tub?
One of the most luxurious and desirable aspects of a custom bathroom is the tub. Would you like it attached to or separated from the shower? What about installing jets to create a jacuzzi or hot tub feel? If it's a soaking tub, feet or no feet? The choice is yours!
Especially important is the placement of the tub. Is it located under or near a vent or window? You may want to consider building it under an air vent to counteract the steam from hot water. One of the newest bathroom trends is to place the tub inside the walk-in shower. This placement is not only very unique, it also helps maximize space.
Create a calming environment with a custom bathtub.
Jack & Jill Sinks are a Must For Custom Bathrooms!
Making room for more storage and decorative features is a must. Having jack and jill sinks, or in other words, double sinks will increase the counter space available for toiletries, mirrors, and other decorative items. 
Additionally, your custom bathroom should offer a spacious style that has you and your significant other comfortable in this shared space. You'll feel at peace with your companion when you each have your own area while also coexisting in one of the most intimate and personal rooms of your custom home.
Where will your closet be?
Master walk-in closets have become increasingly popular over the last few years. If you choose this option, it's important to consider its location to make your life simple. Some home buyers choose to keep the bathroom and closet completely separate while others integrate the two.
The architectural design is up to you, but make sure to consider your living style before you make your decision.
Consider space, ventilation, and lighting
There are certain rules that apply to building a custom bathroom. Some of these exist solely for coding purposes while others are just meant for accessibility. Remember a general rule to allow at least two feet of space between each appliance.
Bathrooms, especially those with a tub and shower produce lots of steam and condensation. Therefore, it's important to address the ventilation and air circulation for your custom bathroom. Ask your home builder to incorporate an exhaust fan to keep your new beautiful custom bathroom from developing moisture and mold.
Lastly, choose light fixtures that compliment your home's overall appearance. Also consider the types of light bulbs, lamps, or other fixtures to ensure the comfort of your custom bathroom.
There's a lot of thought that goes into designing the perfect custom bathroom. The end result is a tranquil space that welcomes comfort and peace that you could only dream of before. We're here to help your dreams become reality. Contact us so we can help you build your perfect custom home.